The Future of Energy is Quick and Easy
Give your family the benefits that they deserve

Lower Your Electricity Bill
An average home can save up to $2,000 from their quarterly bill to spend on what is most important

Reduce Your Carbon Footprint
We have helped offset more than 2.8 million tons of Carbon. Renewable energy is the energy of the future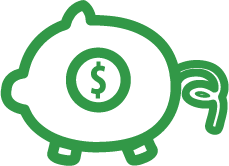 Money Back From Unused Energy
A feed-in tariff is paid to you by your electricity provider for excess electricity generated by your solar PV system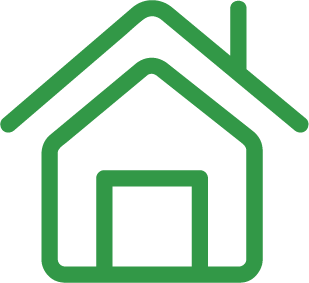 Increase the Value of Your Home
Research shows that 85% of Australians would pay extra if a property had a solar system

Lower Your Electricity Bill
An average home can save up to $2,000 from their quarterly bill to spend on what is most important

Reduce Your Carbon Footprint
We have helped offset more than 2.8 million tons of Carbon. Renewable energy is the energy of the future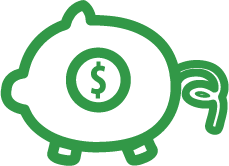 Money Back From Unused Energy
A feed-in tariff is paid by your electricity provider for excess electricity generated by your system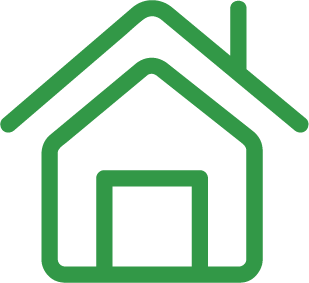 Increase the Value of Your Home
Research shows that 85% of Australians would pay extra if a property had a solar system
Harnessing the Sun Has Never Been So Simple
The process is as easy as 1-2-3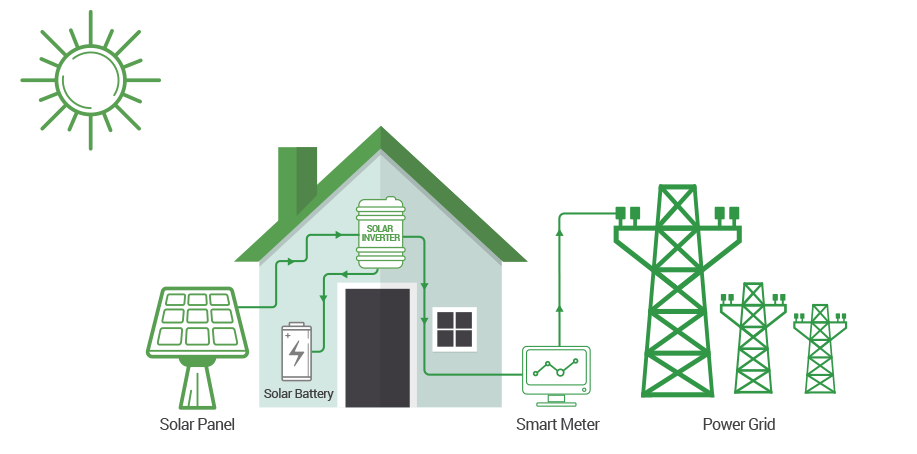 Solar Panel
A solar panel captures
sunlight and converts it into Direct Current (DC) through the cells
Solar Inverter
A solar inverter converts DC into Alternating Current
(AC) to power
your property
Solar Battery
A solar battery (optional) stores excess energy
(instead of pushing out to
the grid)
Smart Meter
A smart meter helps
you to understand and manage your energy
use and costs
Power Grid
Excess energy you generate is
pushed out to the grid
and you receive a
Feed-in Tariff
Blank
Your content goes here. Edit or remove this text inline or in the module Content settings. You can also style every aspect of this content in the module Design settings and even apply custom CSS to this text in the module Advanced settings.
Solar Panel
A solar panel captures sunlight and converts it into Direct Current (DC) through the cells
Solar Inverter
A solar inverter converts DC into Alternating Current (AC) to power your property
Solar Battery
A solar battery (optional) stores excess energy (instead of pushing out to the grid)
Smart Meter
A smart meter help you to understand and manage your energy use and costs
Power Grid
Excess energy you generate is pushed out to the grid and you receive a Feed-in Tariff
How Solar Saves You Money
How Solar Saves You Money
Calculate Your Family's Savings
Spend your money where it's most important

Our Recommended Solar Packages
Value Package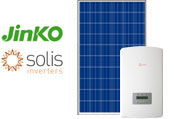 Value Package Includes
11 x 275w Jinko Solar Panel
1 x Solis Inverter
Full Installation
Grid Connection
Performance Package
What is a Performance Package?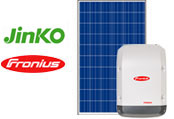 Performance Package Includes
11 x 275w Jinko Solar Panel
1 x Fronius Inverter
Full Installation
Grid Connection
Your Details
Postcode? #
People in the household? #
When do you use energy? #
Bedrooms in the house? #
How many stories? #
Quarterly bill? $#
Estimated Annual Savings
$
kWh
Like This Estimate?
Request a quote and one
of our solar experts will get in touch
Solar Calculator Disclaimer
We've recommended a solar system size and estimated savings based on the information you have provided. The calculator is a guide only and does not consider all of your personal circumstances. In addition, your actual savings may vary according to factors such as your location, the direction your roof faces, the pitch or angle of your roof, shading or obstruction, weather/climate conditions, utility rates, applicable government incentives and your energy usage.
The calculations are based on the following assumptions:
0.28 c/kWh consumption tariff on grid energy. This will vary based on the retailer that delivers energy to the property;
Feed in tariff of 0.08 c/kWh;
All energy produced is consumed on site;
True north aspect at a pitch of 22 degrees; and
CPI increase of 3% p.a.
The output calculations use sunlight data supplied by the Australian Bureau of Meteorology as an average with guidance from the CEC kWp assumptions for daily solar generation. The output calculations are estimates only. There may be variances as a result of factors such as but not limited to sunlight availability and shading, inverter and cable loss, dust, panel orientation and azimuth and geographical distance between input postcode and available meteorological data-sets.
The estimated savings generated by this calculator are general estimates only and are not guaranteed by UNIfied Energy Services and are not intended to be relied upon for the purpose of making a decision. Any person intending to act or rely on the information should check its application to their circumstances. Other than what cannot be excluded at law, UNIfied Energy Services and/or its related bodies are not liable for any claim, loss and/or damage (direct or indirect) caused by or in any way connected with the access to and/or use of this calculator.
Frequently Asked Questions
Our experts have the answers to your questions
How long will the installation take?
UNIfied can install your PV system within days of approval. The approvals from your retailer and distributor, however, can take up to 6-8 weeks. UNIfied will keep you informed throughout the approval process. Post installation, UNIfied will organise a third party inspector to sign off on the electrical works and turn your system on. At this point, you will receive the benefit of solar energy in your home (allow 10 to 15 business days for this to be carried out).
Does UNIfied offer a post-installation service?
Absolutely! We have a dedicated customer service team and in-house A Grade Electricians who are able to respond to all your enquiries. Also, every UNIfied solar PV system comes equipped with an energy monitoring service. This service will highlight your solar savings following an install. It will also show energy usage patterns and other areas for potential savings so that you can maximise the use of your new solar system.
Can I choose my own electricity provider if I install a UNIfied solar PV system?
Yes.  UNIfied is AGL's preferred solar PV system installer and we ask you to consider their competitive market rates for the energy you don't use when installing solar for your home.
Is there any maintenance involved?
UNIfied is responsible for the first 7 years of your system's maintenance. The Clean Energy Council suggests a qualified electrician check every 2 years thereafter.
What about the energy it takes to produce a solar power system?
In Australia roof-top solar systems recover their energy content (from manufacturing and recycling) within 1.6 to 1.8 years. During their lifespan they're expected to produce 17 times the amount of energy needed for manufacture, install and dismantle.
How much of a reduction in carbon dioxide emissions will I achieve?
Using a comparison to a car, the average vehicle in Australia travels 20,000 km per annum, which is equivalent to 3.3 tons of CO2 discharge annually. A 2kW system will prevent 3.3 tons of CO2 being generated through coal fired power generation.
What Our Customers Think of Us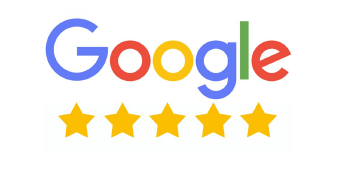 VIC: G2, 51-65 Clarke St,
Southbank, VIC 3006
NSW: 19 / Level 2, 65-71 Belmore Rd,
Randwick, NSW 2031
Our Results
Achieving Outstanding Results
for Every Client
Lorem ipsum dolor sit amet, consectetuer adipiscing elit, sed diam nonummy nibh euismod tincidunt ut laoreet dolore magna aliquam erat volutpat. Ut wisi enim ad minim
Lorem ipsum dolor sit amet, consectetuer adipiscing elit, sed diam nonummy nibh euismod tincidunt ut laoreet dolore magna aliquam erat volutpat. Ut wisi enim ad minim
Lorem ipsum dolor sit amet, consectetuer adipiscing elit, sed diam nonummy nibh euismod tincidunt ut laoreet dolore magna aliquam erat volutpat. Ut wisi enim ad minim