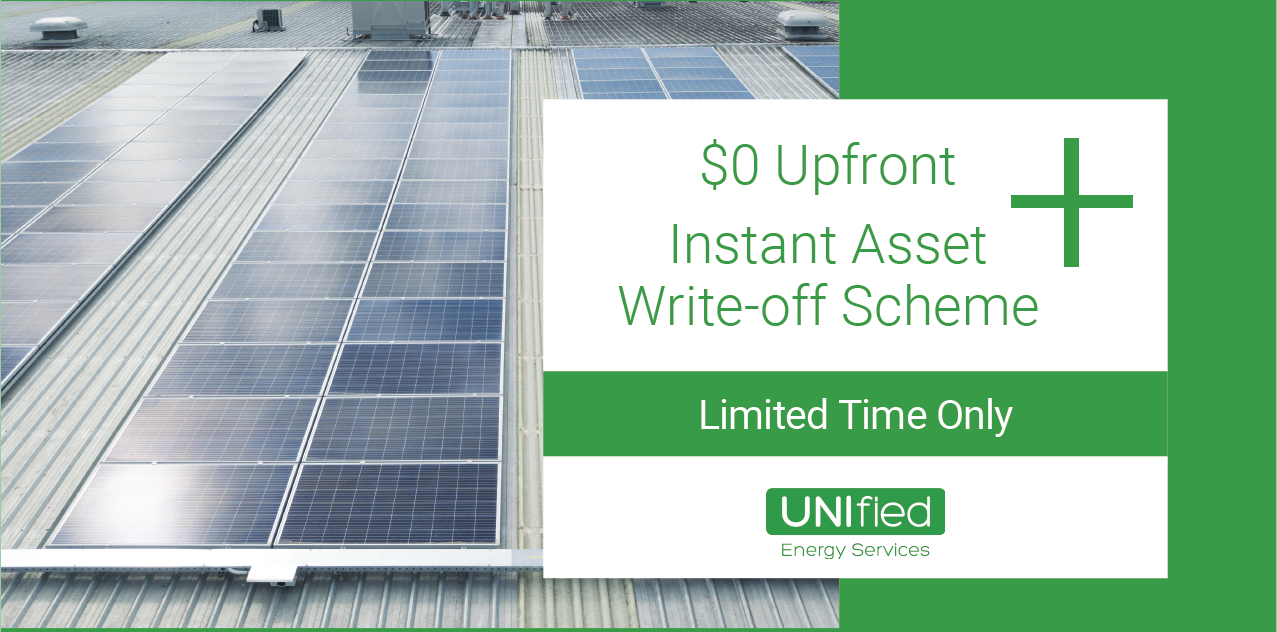 $0 Upfront*

+

Instant Asset Write-Off (IAWO) Scheme
A Solar Payment Plan* gets you on the path to energy independence with $0 Upfront* PLUS your business can instantly claim the FULL value of a Commercial Solar PV System up to 100kW ($150,000 value), as depreciation.
Instant Asset Write-Off Scheme
Under the Australian Government's Instant Asset Write-Off scheme your business can now write-off up to $150,000 (ex GST) on new equipment. For example, acquiring $150,000 of equipment will create $45,000 in tax credit (at a 30% company tax rate).
Secure the IAWO. Lock in Your Installation
To assess your eligibility please register your details below and one of our commercial solar specialists will be in touch.

Terms and Conditions
*Payment Plans are provided by Energy Lease Pty Ltd t/a Energy Ease. All applications subject to credit approval and criteria.
UNIfied Energy Services does not and cannot provide financial advice.UNIfied Energy Services is not a financial adviser. You should consider seeking independent legal, financial, taxation or other advice in making a decision as to how the Instant Asset Write-Off scheme relates to your unique circumstances.
UNIfied Energy Services is not liable for any loss caused, whether due to negligence or otherwise arising from the use of, or reliance on, the information obtained directly or indirectly, from this communication.
VIC: G2, 51-65 Clarke St,
Southbank, VIC 3006
NSW: 19 / Level 2, 65-71 Belmore Rd,
Randwick, NSW 2031
Our Results
Achieving Outstanding Results
for Every Client
Lorem ipsum dolor sit amet, consectetuer adipiscing elit, sed diam nonummy nibh euismod tincidunt ut laoreet dolore magna aliquam erat volutpat. Ut wisi enim ad minim
Lorem ipsum dolor sit amet, consectetuer adipiscing elit, sed diam nonummy nibh euismod tincidunt ut laoreet dolore magna aliquam erat volutpat. Ut wisi enim ad minim
Lorem ipsum dolor sit amet, consectetuer adipiscing elit, sed diam nonummy nibh euismod tincidunt ut laoreet dolore magna aliquam erat volutpat. Ut wisi enim ad minim