Clean Energy Day and Night
Solar batteries work by storing energy produced by your solar panels for when you need it.
When you install a battery, you're able to store excess solar electricity at your home instead of sending it back to the grid. If your solar panels are producing more electricity than you need, the excess energy goes towards charging the battery. Later, when your solar panels aren't producing electricity, you can draw down the energy you stored earlier in your battery for night use.
The Solar Homes Program is supporting eligible Victorian households to install a solar battery, by providing a point of sale discount up to a maximum of $4,174. Solar battery rebates are now available in every Victorian postcode and will maintain their current value until 30 June 2021.
Installing a battery can help a typical household save up to $640 a year*.   *Source: Solar Victoria
How Battery Storage Works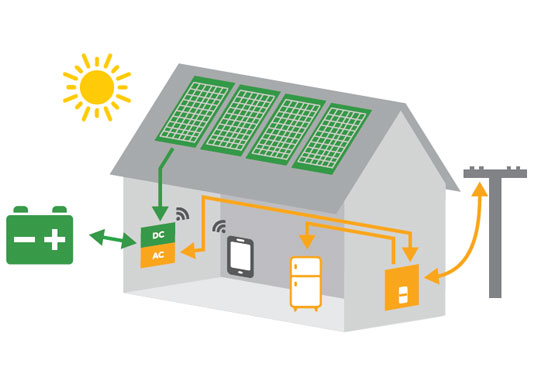 • The solar panels take in sunlight.
• The solar energy travels as direct current (DC) through the solar inverter so it can be converted into alternating current (AC) energy that everyday appliances can use.
• The switchboard then directs the solar energy to where it's needed. First, it will power the appliances in your home, then direct any excess to the battery inverter.
• The battery inverter converts the energy into a form of storable energy.
• The battery stores the energy to use for when the sun goes down.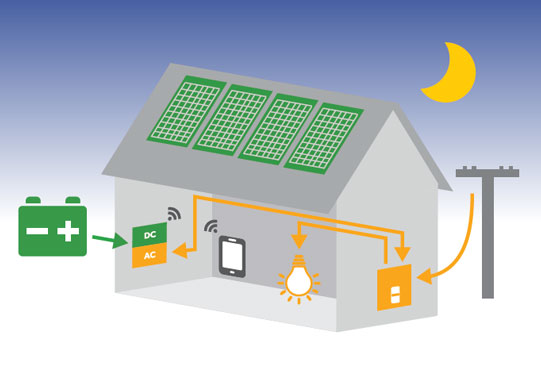 The solar panels stop generating energy and the household switches to stored battery energy.
• The battery starts sending energy through the battery inverter to power the home.
• The battery inverter converts the energy into a form that appliances can use.
• The switchboard directs the energy to your appliances.
• When the battery's charge runs out, the grid will kick in and provide energy to keep your appliances running.
I want a solar system & battery
Buy a solar bundle

I want a new solar battery
Buy a solar battery

I've already got a solar battery
Bring your own battery

1300 817 847
Is now the right time to buy a battery?
Like many new technologies, the price of batteries is coming down, however the Solar Homes' solar battery rebate is making them more affordable, however they are a significant investment. If you are interested in buying a battery to support your solar PV system research the topic in-depth, go for quality over price and have a clear understanding that it is what you really need, and can afford.  
How do I know what the benefits of installing a solar battery will be?
You should carefully consider what benefits a battery could provide and the associated costs.
Before applying, it is recommended that households should:
Can I apply for a solar battery rebate if I have already received a rebate for a solar PV system?
No. Only one rebate is available under the program.
What is a virtual power plant (VPP)?
A virtual power plant (VPP) is a network of individual distributed energy resources, such as solar PV and batteries that are located in different places. Through aggregation in a VPP, these systems may then be able to participate in trading in the electricity market and providing network services and grid support.
Participating in a VPP may provide additional revenue to battery owners and help lower electricity costs for all consumers through reduced wholesale electricity costs, reduced ancillary service costs, and through the provision of network support.
VIC: G2, 51-65 Clarke St,
Southbank, VIC 3006
NSW: 19 / Level 2, 65-71 Belmore Rd,
Randwick, NSW 2031