An alarming number of Australians are experiencing significant bill stress. According to the Bill Stress Index report from Compare Club, it's clear that our year-long interest rate hikes have clearly taken a toll, together with the soaring cost of energy.
What keeps Australians awake at night when it comes to bills
When the study asked what bills are causing the most stress:
Mortgages topped the table (at 27%), followed by
Utilities second (at 23%).
Around one in five of us are also stressed about health insurance and car loans.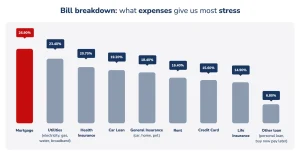 Source: Compare Club Bill Stress Index May 2023.
Be proactive and compare providers to get the best savings
Let's be proactive.  Don't be afraid to compare providers regularly to ensure you get the best deal based on your energy usage.
Just like we all shop around for the best home loan from providers, we should shop around for the best offer from energy retailers to achieve some cost savings.  Some energy providers offer discounted rates for new customers, which is a strong incentive to switch. Whatever the case, be sure to asses your usage and shop around for the best deal you can find especially if you're thinking of installing solar power.
Solar power is the future
We live in one of the best locations in the world when it comes to solar power, with some of the highest solar radiation levels on the planet.  This is an opportunity for households to save money on energy, and with payback period getting down as low as 3 years, it really is a no-brainer.